You can try to enable the alternative service if your messages are staying in "Pending" status for a long time. You just have to open the app and click on the Play button to start the service as highlighted in the below screenshot.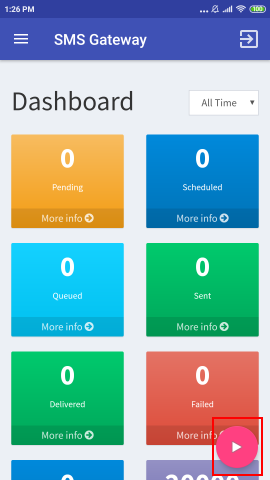 It is still a good idea to follow the below instructions.
Note for phones without Stock Android
Some device manufacturers like Xiaomi, Honor, Oppo, Realme and some others use their own battery saver app. You will need to add the SMS Gateway app into the exceptions list in the battery saver app if your phone is using a custom battery saver. For example, you can see how I added the SMS Gateway app into exceptions list on Redmi Note 3.
If you are using a device that doesn't have the stock Android, then it may have AutoStart permission settings. You need to download the latest version of the app from here. If after installing, it prompts you with the message "Your device is restricting the application's functionality. Please enable/add the application in the whitelist, so it can work normally." then it means it is restricting the app. Just press the OK button, and it will take you to the screen where you can whitelist your app.
There is a chance that the latest version of the app can't detect the AutoStart permission, because it is not possible to test the app on every device. In that case, you should consult your device manufacturer to see if there is any setting like that available on your device.
If you don't see the above settings on your phone, then you can check out the following site. It lists all restrictive functionality available on commonly used devices. Just whitelist the App or disable any restrictive functionality, and it should work normally.
Even after following the above instructions, if you still encounter the issue, then you need to try the app on a different device. It is recommended that you use a Stock Android device for the best experience. It is also preferable to use a device with 4 GB or more RAM for the best experience.